Founded in 2001 by Lt. Col. Mohan Mamtani, The Grand Group is a "One Stop Shop" for HR Solutions under one roof with the intent of helping Corporate, Government and PSU sectors to set up best practices in HR. The Group has been providing customized recruitment solutions across various industry verticals headed by senior HR professionals and experts with profound effective approach. Our excellence is in providing highly qualified and experienced professionals at Senior, Middle and Junior Management Level. We also recruit temp staff and conduct training modules to enhance the functional and operational efficiency of the organizations.We invite you to consider the partnership role that The Grand Group can play in accelerating your organization's competitive performance.
The Group comprises: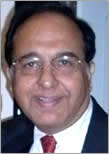 Founder of Grand Group
Lt. Col. Mohan Mamtani
About The Founder
Mohan Mamtani served with the Indian Army for over 20 years in various appointments including General Staff Officer, Directorate General of Military Operations and Senior Instructor, Infantry School, before voluntarily retiring in the rank of Lieutenant Colonel(Selection Grade).
Thereafter, his association with the hotel industry for over a decade honed his passion for teaching. He has been teaching for over 25 years and has been faculty in Indian Army, at the Oberoi School of Hotel Management (now known as OCLD), Holiday Inn and Indian Airlines.
Inspired by the idea of helping his brother-officers of the Defense Forces, Mohan, specifically designed courses on Career Transition to enable the Defense Officers to make a smooth transition to civil industry and approach their future with confidence in the corporate world.
Till date, he has trained over 500 job seekers including college fresher, mid-career transients, and post retirees from Canadian Red Cross, Defense, hospitality, retail and other sectors.
With his extensive knowledge of various industries and career paths, he is expert in coaching the clients to acquire right job with the right employer.